MOXONS IN NORWAY
LB9YE'S MOXON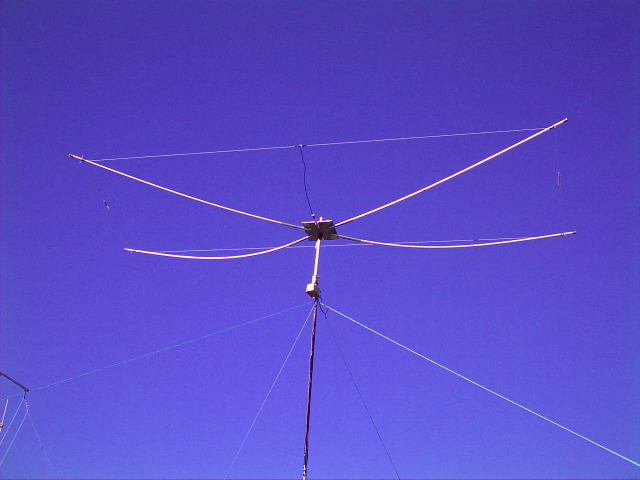 Hello Moxon Builders:
Thanks for a great Moxon antenna site here on the web. I made a Moxon beam for 17 meters (18.130) the other evening and I find it works SUPERB! Now (with rather ease) I can work long dx in the late afternoon.
First "smoketest" yesterday night provided me with: 9Z4 -N7 -N8 -VA3 and the list goes on !! Compared to my extended zepp this antenna gives 3 to 4 S units better on far signals. A good side rejection against southern Europe really brings up the performance and gives trouble-free listening. I`m hooked for sure..........
I buildt this with Ø 28mm fiberglass rods (heavy duty stuff used to keep track of nets out on the big ocean HI) and 32mm alu tubing on a 6mm square alu bracket (40*40cm) the wire is 2,5mm PE electric, spaced with Ø 18mm electrican tube. Additional support of the elements not used.
Turns easily with my ALTAI tv rotator up at 8.5 meters over ground (weight abt 12 kg total) I`ll soon support the rotor but need to build myself a cranck-up mast.
I live 50 meters from the North sea (10 meter over sea level) and am line of sight to the horizon in all directions. But it is rather STORMY out here !
I add this pictures so that you can see the "baby" here up in windy Norway... hence the STRONG construction.
See u on 17 !
Best Regards De
LB9YE / Jan Morten Røsseth
JP54PU
Norway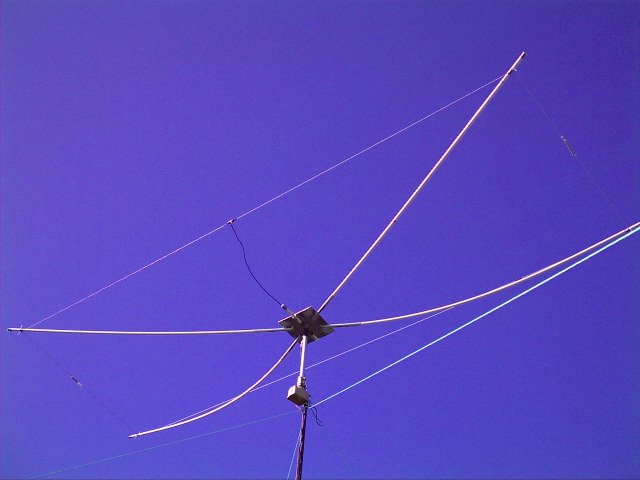 notice the nice hub design and the stressed upward tilt of the spreaders.
very nicely done Jan--ed.