1269 MHz Moxon
THE SATELLITE MOXON OF
VK6XH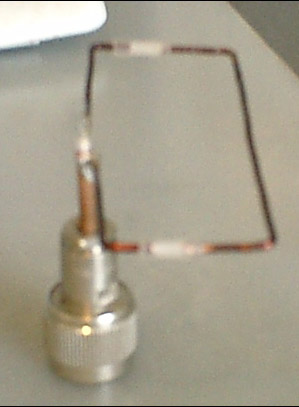 Keith Bainbridge, VK6XH writes:
Thought I'd try scaling the moxon for 1269 mhz for satellite use. I made it from 2mm enamelled wire to the scaled dimensions and used a piece of RG58 inner insulation to hold the two sections together.
The driven element is soldered direct to a piece of UT 141 ( I think) 50 ohm solid coax with an N type plug. I fed it with 2 watts from my IC 910 and swr is 1.4 : 1 over 2 mhz bandwidth.
I tried it on a short piece of coax towards our local 1296 Mhz ( not 1269 ) Beacon and the f/b ratio is indeed very noticeable. I will put it on the tower on my satellite antennas over the next week and see how it performs. I'm not expecting miracles but it is nice to play !! My wife says its a " toy " antenna ! Just thought I'd share the fun!
I would love to add directors to it to make a beam of at least 10 elements and try it on the uplink for AO-50 but I dont have enough info ( or ability ) to work out the spacings , lengths etc.
But they are indeed interesting antennas. I met Les many years ago at the Telford Rally in the UK and have always been impressed by his designs and have used his above ground radial ideas successfully here on HF. He was a great thinker!!
73 de Keith
VK6XH
N.C.R.G.
Amsat NA #35338
W.I.A.